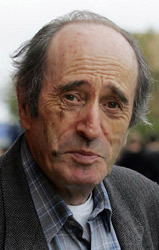 When Theo Walcott took to the field against Barcelona at Camp Nou, he was carrying a colossal burden, which might have been a good deal lighter had Arsene Wenger only had the good sense and enterprise to start him in the first leg at The Emirates.
Instead, absurdly, he came on only as a third choice right-winger, deep into the second half. The gifted little Russian, Andrei Arshavin, had started the game in the position. I bow to none in my admiration of his many talents, he is beyond doubt a more sophisticated player than Walcott, but what was needed, as Walcott so excitingly displayed when at last he came on, was sheer, devastating pace.
Yet when Arshavin went off with a pulled muscle, it wasn't Walcott whom Wenger sent on but Eboue, beyond doubt a powerful player who has pace of his own, but essentially an overlapping right back rather than a winger.
It was only when Walcott arrived that we saw the defensive vulnerability of Barca's second choice right back, the Brazilian Maxwell. Praised in one report for his sheer versatility in going into attack in all sorts of positions, thus ignoring the fact that like so many gifted attacking full backs – England's Glen Johnson is another of them, he is far better going forward than defending.
Walcott, when all seemed lost for a Gunners team which had been outplayed by a brilliant Barcelona, promptly scored a spectacular goal, making is 2-1 to the Spaniards, and inspired the revival which enabled Cesc Fabregas, making light of his serious injury, to equalise from the penalty spot.
There were those who wrote that previously, Fabregas had had relatively little impact on the game. How, in his physical condition, could he? It might be argued that Wenger was wrong to keep him on the field for so long when he was so obviously hampered and it would surely be objective, while considering Barca's superiority for so much of the game, to suggest that it had something to do with the fact that Fabregas was in no state effectively to oppose them.
Three days later, against Wolves, at home, Walcott did start the game and had several swift, incisive runs in the first half, not to mention a left footed shot which brought an excellent save. Yet just as he has been, somewhat churlishly, criticised by Chris Waddle ("Walcott hasn't a football brain") and Ian Wright (step-father, remember of rival Shaun Wright Phillips) so after the Wolves game he was damned with faint praise.
He started his runs too early, we were told; evidently forgotten was the glorious 80 yard run which brought that goal against Liverpool in the European Cup last season at Anfield.
And how could his critics forget the hat trick he scored in Zagreb against Croatia, in England's remarkable 5-1 World Cup qualifying victory? I cannot remember Chris Waddle, though he impressively matured, being Brain of Britain in his earlier Newcastle days.
Walcott has had a curiously uneven international career, ludicrously picked by Sven Goran Eriksson – now surprisingly enrolled by the Ivory Coast – for the England World Cup squad in Germany. After just one brief appearance in the international team and not even one for Arsenal, who had bought him from Southampton as a teenager. Gift horses should not be looked in the mouth. Walcott can and does win matches.