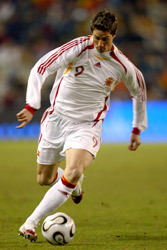 Atletico Madrid striker Fernando Torres will fly into Liverpool to undergo a medical on today before completing his move to Anfield.
Liverpool have agreed a club record £26.5m deal with Atletico and sources suggested that the 23-year-old has verbally agreed a four-year deal and the move could be made official today.
Villarreal's Diego Forlan has been lined up to replace the Torres at Atletico, while the Anfield club have recouped some of their outlay by agreeing to sell Luis Garcia to the Spanish outfit for £4.5m.
Luis García's agent, Manuel García Quilón, yesterday admitted he expects his client to join Atlético "today or tomorrow".
Torres cut short his holiday to return to Madrid to prepare to say an emotional farewell to Atletico's fans.
Benitez has been desperate to land a big-name striker as he sets his sights on mounting a challenge for the Premiership title. Despite success in Europe since his arrival three years ago, Liverpool have failed to mount a concerted challenge on the domestic front.
Torres will be the 10th Spaniard signed by Benítez since 2004 and will join fellow countrymen Pepe Reina and Xabi Alonso at Anfield.
Gil Marin, Atletico's major shareholder insisted that Torres is not irreplaceable.
"Nobody is indispensable. No player by himself, very good though he is, is able to make a team achieve its aims," Gil Marin said on Punto Radio.
"We have spoken to him and told him we would like him to stay. It is normal that he has doubts. It is normal that the offers and everything surrounding them has made him think."
Torres scored 14 league goals in 36 starts last season as Atletico finished seventh in La Liga.