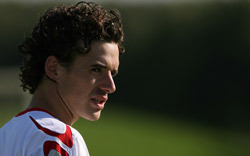 Betting on Football? Claim £500+ in free bets – click here now.
Manchester United manager Sir Alex Ferguson is still keen on signing Owen Hargreaves from Bayern Munich – but admits that a deal seems unlikely.
The 25-year-old midfielder was left out of Bayern's squad for the Bundesliga match with Bochum on Sunday, after informing the Bundesliga club that he wanted to join United.
Ferguson said: "We are trying hard but Bayern are proving very stubborn and resistant, which I can understand.
"We can only do our best. That's what we'll keep doing because we are trying to build a strong squad of players."
Hargreaves is known to be keen on joining United but Bayern are publicly refusing to contemplate the transfer.
A statement on their website said: "Bayern has not held negotiations with Manchester United.
"Furthermore, the club does not intend entering transfer negotiations regarding Owen Hargreaves.
"Bayern Munich has officially requested Manchester United to cease pursuing its interest in Owen Hargreaves."
Hargreaves was seen as England's player of the World Cup and maintained a good impression in England's 4-0 friendly win over Greece.
Hargreaves has been at Bayern since moving to the club from Canada as a 16-year-old in 1997.
Betting on Football? Claim £500+ in free bets – click here now.