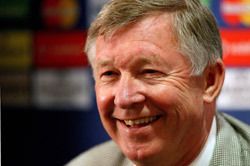 The Champions League continues this midweek. See the latest outright betting and games here.
Manchester United manager Sir Alex Ferguson has dismissed Jose Mourinho's suggestion that he will instruct his side to be cautious when they face Inter in tonight's Champions League encounter.
"I'm sure Jose has seen us enough to know that we very seldom go into a game not trying to win," he said.
But Inter coach Mourinho believes United will keep it tight ahead of the return leg at Old Trafford on 11 March.
The former Chelsea manager claimed on Monday that he expects a cagey encounter between the respective leaders of Serie A and the Premier League.
"Nothing will be decided tomorrow. I don't think Manchester will come to try to win. They'll play very defensively," he said.
"There will be another great game at Old Trafford.
"I am not saying they're scared of us but they respect us. I don't think they'll come with their usual approach.
"We have got to go into this tie thinking that in 15 days probably we can celebrate that we have beaten the European champions. Nothing will be decided [at San Siro]. Probably come the last minute at Old Trafford, nobody knows who is going to go through."
But Ferguson said the competition's away goal rule means United cannot afford to play defensively.
"We still have the opportunity to take Inter back to Old Trafford with a good result. If we score an away goal it will give us a great chance," he stated.
"You're always intent in Europe to get that goal that means something really big when you get back to your own ground."
With Nemanja Vidic suspended, Gary Neville and Wes Brown already ruled out through injury and Jonny Evans and John O'Shea unlikely to recover in time for the match, Ferguson is has a headache on his hands trying to assemble a defensive formation.
And he admited that whatever back line he decides on, United will havetheir hands full dealing with Inter's Swedish striker Zlatan Ibrahimovic.
"Their star player without any question is Ibrahimovic. He's had a fantastic season and is getting all the praise he deserves," added Ferguson.
However, Ferguson refused to read anything into Mourinho's superiority in head-to-head meetings with Manchester United.
The Portuguese coach presided over Porto's defeat of United at the same stage of the competition in 2004, and while in charge at Chelsea he avoided defeat in all but one of his 10 meetings against Ferguson.
"I don't think about the defeats to different managers. One defeat in 12 depends on how you look at it. It wasn't as though we lost all 11 games, if it was I'd worry. What matters is tomorrow night," insisted Ferguson.
Mourinho, meanwhile, insisted that his team would go on the attack against last year's Champions League winners.
"We won't change our style of play, it will be 4-4-2 with a diamond formation in midfield and Zlatan Ibrahimovic and Adriano in attack," he added.
"I've told the players not to think about the possibility that in two weeks they'll be out of the Champions League but that in two weeks they could have beaten the champions of Europe.
"We shouldn't be afraid, we have to keep our way of playing. We are playing a great team but so are they.
"Beating Manchester wouldn't be anything special, the important thing is qualifying for the next round."
The Champions League continues this midweek. See the latest outright betting and games here.