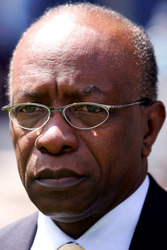 Before each bet make sure you visit easyodds.com to compare odds between bookmakers.
FIFA vice-president Jack Warner is facing an investigation by the world governing body's disciplinary committee after leaked reports by an internal auditor alleged that Warner and his son Daryan set up deals for the sale of thousands of World Cup tickets on the black market.
Auditors Ernst & Young were called in by FIFA general secretary Urs Linsi to monitor potentially suspicious ticket deals.
One of their reports said that the Trinidadian and his son had been involved in the selling on of 5,400 tickets for games involving England, Mexico and Japan at many times their face value, bringing them an estimated profit of at least £500,000. If true, it would be in clear breach of FIFA's ticketing rules.
Warner's case has now been referred to FIFA's disciplinary committee after Warner and his lawyers denied the charges during a meeting in Zurich.
However, the FIFA ethics committee, which it was announced last week will be chaired by London 2012 Olympics boss Sebastian Coe, will not investigate the allegations against Warner.
Earlier this year, it was revealed Warner's family-owned travel company, Simpaul, had a monopoly on selling World Cup ticket and travel packages in Trinidad & Tobago. Warner subsequently said he had cut his ties with Simpaul and was allowed to continue as a FIFA executive committee member.
Another Ernst & Young report details their investigation of claims by the head of a Swiss travel agency that he had not received all the World Cup tickets he had purchased from a Florida-based agency called Kick Sports. Ernst & Young traced the source of some tickets the travel agency chief had received from Kick Sports, bought at four times their face value, to Warner.
Another FIFA executive member, Ismael Bhamjee of Botswana, resigned after he was reported to have sold 12 World Cup tickets on the black market.
"This situation is completely different," FIFA president Sepp Blatter said.
"Ismail Bhamjee admitted that he had committed more than an error and signed a document saying he had done wrong."
Warner has been a strong supporter of Blatter's presidency, but Blatter insisted their close relationship would have no bearing on the case.
"I have had a strong connection with Jack Warner from all our years at FIFA," Blatter said.
"But that does not mean as FIFA president that I will not take action if a member has problems with applying the principle of ethics and morals.
"But we can only take action in accordance with FIFA regulations and that is what we are doing."
Before each bet make sure you visit easyodds.com to compare odds between bookmakers.