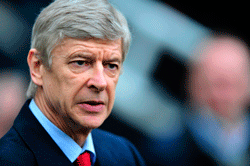 It's the Carling Cup final this weekend – see the best betting odds on EVERY Arsenal v Birmingham market here…
Arsene Wenger has confirmed that Cesc Fabregas has no chance of playing in the Carling Cup final and said Theo Walcott is likely to miss the second leg of Arsenal's Champions League tie with Barcelona.
Fabregas' personal trainer claimed he would be fit to play and the Arsenal skipper vowed to do all he could to take lead out the side on Sunday. The Arsenal manager, though, has said there is no possibility of his captain leading the side out at Wembley.
"You cannot play football when you're injured," he said. "He's sad and disappointed but it could have been worse the injury – it's a very small one. We have many targets in front of us so it is important he is not out for longer."
Asked how long he would be absent, Wenger replied: "One or two games maybe."
Wenger confirmed Robin van Persie will be available to face Birmingham on Sunday and will take the captaincy. "The vice-captain is Robin van Persie," he said. "He's back."
Walcott – stretchered off in the victory over Stoke this week – has little hope of facing Barcelona in the Round of 16, Champions Leage encounter at Camp Nou on March 8.
Asked how long Walcott was likely to be sidelined, Wenger said: "I believe it will be two to three weeks.
"I would say today it is very unlikely he will be fit for the second leg of the Barcelona game. I imagine the worst so maybe I will be surprised in a positive way but I just give you my gut feeling at the moment."
Wenger said, though, that he believes his squad had the strength in depth to be able to cope with the injury.
"I believe what is important now is that the squad focuses on the game we want to play on Sunday," he said. "I ideally want everybody fit but you know you can have some players injured and we can deal with it.
"I'm delighted we have a squad to deal with the number of players injured. We have shown that in the last few months. We have belief, confidence, we are committed and determined to overcome the last hurdle and win the Carling Cup. That is what we focus on."
It's the Carling Cup final this weekend – see the best betting odds on EVERY Arsenal v Birmingham market here…
Take advantage of the sales by saving up to 36% on a subscription to World Soccer