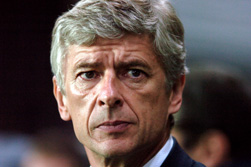 Arsene Wenger admitted that the 3-1 Champions league semi-final defeat to Manchester United, represented his most disappointing night as a manager.
The Gunners were effectively undone by two goals in the space of three first half minutes, which ended the tie as a contest, leaving the home side needing to score four.
"This is the most disappointing night of my career. The supporters were up for it and to disappoint them like this really hurts.
"We do not feel like we have played the semi-final of the Champions League because we were out of it after 10 minutes.
"The game was over before it started, that is most difficult to swallow.
"We can only look at ourselves I must say, but it's very, very disappointing to fight such a long way to get where we have been but to give the game away like we did."
Wenger added: "We were ready for a fight, ready for a game, but after 10 minutes it was impossible.
"We kept going and we did as much as we could, played with pride and desire, but of course some part of the belief had gone."
"Now we have to stand up for it and finish the season well and respond well against Chelsea on Sunday."
Wenger, though, maintains all is not lost and is convinced his team's time will come.
"It's easy to say that it is a bit of experience, but I am convinced that we have the quality and we will continue to develop," he said.
"If you look at the average age of the team, it is still very young.
"To reach that level deserves a lot of credit, but we were caught by a team who has the art to kill and take advantage of mistakes."
For more fascinating features, subscribe and save 30% and use the below link?