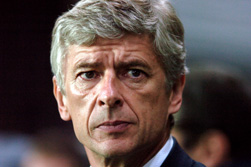 Arsenal manager Arsene Wenger has thanked Thierry Henry for his contribution to Arsenal's success on the day that the French striker completed a £16m move to Barcelona.
Speaking for the first time about Henry's departure, Wenger made it clear last night that it was ultimately his decision to let the club's record goalscorer leave.
"Thierry has been tremendous for us since he arrived in 1999," Wenger said.
"He has excelled both as part of a team and individually. In short, he has become an Arsenal legend. Personally, I would like to thank Thierry for the huge contribution he has made to the club's success over the past eight years.
"To his great credit, he has mixed skill and style together with an appetite for winning. It was Thierry's decision to leave Arsenal but he goes with my blessing. On behalf of everyone at the club, we wish him the very best for the future."
There has been speculation that Wenger would follow Henry in quitting Arsenal and the striker admitted that the ongoing uncertainty over Wenger's long term plans was one of the reasons he decided to leave the Gunners.
"I can only go with what he has said to me," Henry said when asked about Wenger's position. "He said he is going to see out his contract. After that I would like him to stay there because it is important for the club. If he was to leave it would be difficult for them."
"The relationship I had with Wenger was out of this world," he continued.
"You really can't imagine. I talked to him about everything, even private stuff, about anything, anything. When we spoke about me joining Barcelona we didn't fight, he didn't throw anything around the room, we just talked and we both respected each other.
"Our relationship has not ended with me saying I am coming here, it is beyond that. It will always remain."
Yesterday Arsenal dismissed reports that Wenger was insisting on the return of former director David Dein, who was ousted by his fellow directors in a row over his support for a takeover bid for the club by American billionaire Stan Kroenke.