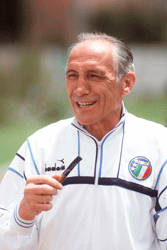 Gareth Bale is 11/4 to win PFA Player of the Year after his sensational start to the season
Enzo Bearzot, who coached Italy to World Cup triumph in 1982, has died in Milan on Tuesday aged 83.
Bearzot has been seriously ill for several years, ANSA said.
"Bearzot knew how to represent and transmit the great values of mankind and of sport," the Italian soccer federation president Giancarlo Abete said in a statement.
Bearzot became Italy coach in 1975 and led the team at the 1978, 1982 and 1986 World Cups.
Paolo Rossi returned from a two-year ban for his part in a match-fixing scandal to finish the 1982 tournament as leading goalscorer with six.
"Enzo Bearzot was one of Italy's greatest ever Italians," Rossi told ANSA. "He was like a father to me and without him I would never have achieved what I did."
Inter defender Giuseppe Bergomi was only 18 at the 1982 World Cup, but was a key part of Italy's defence, alongside Gaetano Scirea, Claudio Gentile and Antonio Cabrini.
"He was the type of coach that gave you massive confidence in yourself," Bergomi told Sky Sport Italia. "He helped me develop as a player and knew how to get the best out of his team."
Bearzot was born in Aiello on September 27, 1927 and played in midfield for Inter, Catania and Torino and was capped once for Italy.
Before taking the Italy job, he was coach of Italy Under-23s from 1969 until 1975.
Under Bearzot, Italy finished fourth at the 1978 World Cup and 1980 European Championship.
After failing to qualify for the 1984 Europeans, Bearzot was criticized for retaining faith with the class of '82 for the 1986 World Cup in Mexico.
The defending championS fell to France in the round of 16 and Bearzot resigned following the defeat having coached Italy for 104 matches.
He returned to the Italian football association in 2002 as president of its technical sector, a post he held until 2005.
Gareth Bale is 11/4 to win PFA Player of the Year after his sensational start to the season
A subscription makes the Christmas perfect gift. Give a lasting gift this year and save up to 33% when you subscribe.