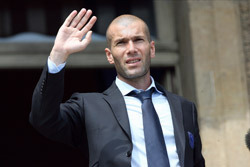 France v Brazil: Joe Kiddle gives his best bets for tonight's glamour friendly…
Zinedine Zidane says his decision to back Qatar's 2022 World Cup bid was motivated by a desire to help football grow in the Middle East, rather than because of money.
In an interview with L'Equipe, the France legend denies suggestions he received "10, 11, 12, 13 million euros" to promote the bid and says he was interested in a "project that's beneficial for the future of sport."
Qatar surprised many observers when it was chosen to host the 2022 World Cup finals.
Zidane acknowledges that he did get paid "a lot of money" but that "it wasn't even a third of these sums" reported in various media outlets.
France v Brazil: Joe Kiddle gives his best bets for tonight's glamour friendly…
Take advantage of the sales by saving up to 36% on a subscription to World Soccer